Granny Chapter Two/Granny Chapter 2 is a DLC of the horror game Granny, which was created by DVloper. The game first released on September 6, 2019 for the Android and September 7 for the iOS. The PC version of the game was later released on December 30, 2019 on Steam.
Just like the original Granny, the Player has to escape from the house within 5 Days, but there is another character: Grandpa.
Description:
Edit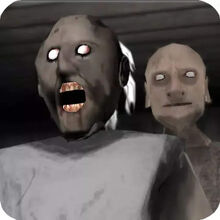 Welcome to Granny: Chapter Two.
Granny and Grandpa keeps you locked in his house this time.
To survive you have to try to get out of his house, but be careful and quiet. Granny hears everything as usual. Grandpa doesn't hear very well but he hits hard.
If you drop something on the floor, or make any noise (with some exceptions) Granny hears it and comes running.
You can hide in wardrobes or under beds.
You have 5 days.
Be careful!
Some people may think that this is a sequel, but no. It is a prequel, meaning before.
The Player can choose Granny, Grandpa or both appear in the game on Easy and Normal only.
Slendrina's Husband's body can be found inside the locked cabinet on the attic, which requires the Cutting Pliers. However, he will disappear after 10 seconds.
Granny spawns in the bedroom on the third floor and Grandpa spawns at the living room on the second floor in the beginning of each Day.
Granny Chapter Two (Trailer): https://www.youtube.com/watch?v=lWmxfmOg8Mc
Granny Chapter Two the PC version (trailer): https://www.youtube.com/watch?v=QZmnkIJfFhI
Community content is available under
CC-BY-SA
unless otherwise noted.